Osage recurve for LJ 44#/27" (No. 120)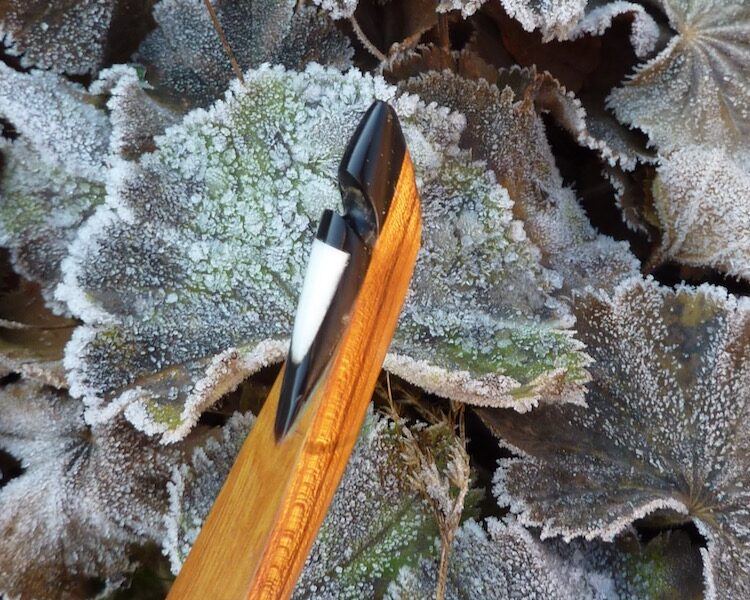 21. Dezember 2020
Bows
asymmetric
,
bone arrow pass inlay
,
bone tip overlay
,
fish skin handle
,
horn arrow pass inlay
,
horn tip overlay
,
leather grip
,
osage
,
stiff handle
,
string groove
,
working recurve
Standard
This was a super nice stave from dark osage, very dense wood. Nearly flawless, only some marginal pin knots. Bad thing was it was very crooked and twisted, so it needed some time and several sessions to bring it line and balance. At handle section an additionally ring allows a nicer curve and more comfort to grip.
She has string grooves for safety (prevent string slipping).
Tip overlays and arrow pass is a combo from buffalo horn and bone. Handle is stingray leather.
dw/dl: 44#/27"
ntn: 60"
bh: 6"
max. w.: 1½"
reflexn: 3½"
mass: 535 gram
asymmetrical
stiff handle
08": 05,0
10": 10,9 (+5,9)
12": 15,4 (+4,5)
14": 19,4 (+4,0)
16": 23,3 (+3,9)
18": 26,9 (+3,6)
20": 30,6 (+3,7)
22": 34,1 (+3,5)
24": 37,8 (+3,7)
26": 41,7 (+3,9)
27": 43,7 (+2,0)
[img]insert link[/img]
alt 5 = [
alt 6 = ]