Osage big paddle 76 /26″ (No. 112)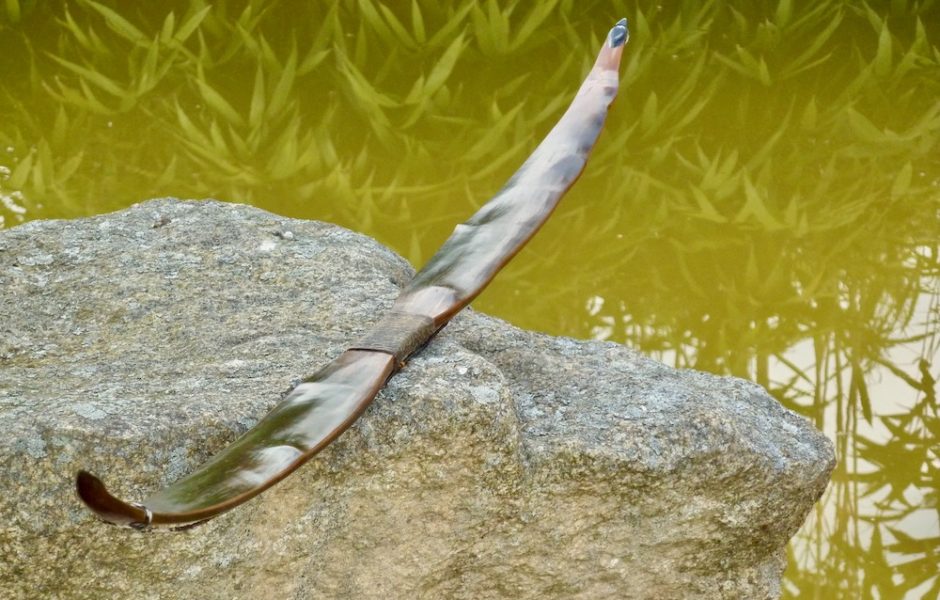 I will continue the bendy handle row with an osage bow made from exceptional wood. This bow is fumed for a few days, the black surface on the back is slightly sanded at handle and tips to get a contrast to overlay and handle wrap. The colors on the back are black and mahogany, on the belly a warm golden brown. The handle is a hemp wrap glued on with wood glue and rubbed in charcoal, also particularly sanded. Tip overlay are buffalo, wide and flat to match the wide paddle design.
The wood is extreme dense and tough, the early rings are anything else than spongy, rings are less than paper thin. This piece has a fantastic elasticity and springiness. The reflex is steamed in, less than 1" set during tillering, now 4" reflex. Probably a candidate for flight shooting, but was thought as hunting bow (not for me, fd pic is far away from full draw).
dw/dl: 76#/26"
ntn: 51"
bh: 4¾"
max. w.: 2"
reflexi: 5"
reflexn: 4"
mass: 485 gram
symmetrical
bendy handle
species:
08": 22,5
10": 30,3 (+8,1)
12": 37,2 (+6,9)
14": 43,3 (+6,1)
16": 49,5 (+6,2)
18": 55,0 (+5,5)
20": 60,0 (+5,0)
22": 65,0 (+5,0)
24": 70,0 (+5,0)
26": 76,0 (+6,0)